Graham Pearcey
Walk number 8
Chessington South and Epsom Gap (6.92 miles / 11.13 km / 2.75 hours):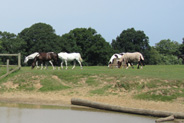 Photos copyright © Graham Pearcey 2011
Please click here for a map of the route.
Park at the Shy Horse, Leatherhead Road, Malden Rushett, KT9 2NQ. Food is served all afternoon until 10:00 PM Mon-Sat and 9:30 PM Sun.
With your back to the pub, walk to your left past houses, and approximately the same distance again, before turning left (signed Public Footpath Epsom Common). Proceed through a narrow gate (to the right of a wide gate), past two semi-detached houses, and on to the first farm building, where you immediately turn right (signed Public Footpath Ashtead Common). The mud track turns into wet grass (in all seasons!) and heads towards the tree line where you cross a stile and turn left. Proceed for some time without digression, with common land to your left and forest to your right. At three cross-paths proceed straight ahead (the first two are signed Epsom Common and the third is signed Christchurch Road). Passing Stew Ponds on your right, continue ahead on the main path (signed Winter Horseride), subsequently forking left to Christchurch Road.
Cross the road to join a bridleway signed Horton Lane. Maintain direction at the entrance to Noble Park and take the left fork onto the main road. Here take the first left (signed Horton Country Park). Then go hard right into a small wood, signed Thames Down Link (TDL) – soon emerging through a gap in a fence to turn right onto a wide track, which bears left. Where the TDL turns right, continue straight ahead past the damaged totem pole, and on across a junction with a lane, to pass the Polo Club Car Park (the sign may be obscured).
Ignore side turnings until a major junction, where you fork left. Reach a T-junction and go straight ahead to cross a stile, alongside a kissing gate, into a field. Turn right and follow the field edge, maintaining direction to proceed into a second field. Pass a pylon and, from the next corner of the field, cross Bonesgate Stream via a footbridge. You may hear barking dogs in Star Boarding Kennels to your left. Pass the backs of houses (on your right) en route to Green Lane. At Green Lane turn left. Remain on the left-hand pavement as it proceeds behind trees, and cross the road just before the Star Boarding Kennels to arrive at the bottom of steps (signed Public Footpath Garrison Lane). You have reached the half way point of the walk.
Climb the steps. The path between the old golf course (left) and houses (right) may be muddy. When forced to do so, bear right alongside a padlocked gate and descend to Garrison Lane. Turn left without crossing the road, and follow the pavement over a railway bridge. Where the pavement forks, take the left fork.
Carefully cross Kingston Road into Barwell Lane. Proceed some distance but, after passing Chessington (gas) Pressure Reducing Station (right), look out for a gate opposite Virginia Cottage. Proceed through this gate, climb Winey Hill which may be muddy and, on reaching the last of three large conifers, bear left. Head through grasses to a tree stump atop the grassy brow, then turn left to pass a viewpoint and small pond. The grassy area is then channelled between a hedge and two fences (left) and a woody area (right). The track briefly narrows and reaches a kissing gate next to a field gate. Proceed through the kissing gate.
Follow the very muddy path between a short fence (right) and the high security fence of Chessington World of Adventures (CWA) on your left. When invited to do so, go left over a broken stile, then turn left onto a wide driveway between the CWA fence and the CWA overflow car park. Eventually, at a T-junction, you go straight ahead at the yellow arrow to follow a wide footpath to Leatherhead Road.
Cross and pick up an often wet bridleway signed Ashtead Common. After some time, as the bridleway becomes increasingly overgrown, you approach the busy Rushett Lane. Bear right, cross Rushett Lane carefully, turn left along the pavement and then right through a metal gate onto a bridleway (the gate and sign may be obscured). Bear left in the direction indicated by the footpath sign, heading towards the tree line where you pass alongside an obscure gate and aim for a pair of signposts clearly visible in the middle of an open space. At these, you turn right (signed Leatherhead Road). Immediately after passing through a gap in the hedge, look for two short logs obscured by tall grasses, and use these to enter a (sometimes) fenced-off field. Heading towards the farm, keep to the left of the fence line until a stile transfers you to the right of the fence line. Proceed through the farm complex, beyond which you go left (signed Leatherhead Road) then right (signed Kingston Road) to retrace your steps to the Shy Horse pub.
This route was last walked on 18 February 2019, and the directions were accurate then. Please e-mail me if you find any errors, if you would like a copy in Word format, or if you would prefer a version that starts and ends at Chessington South station.

Return to my Surrey walks page.